We're all about sharing
Giving back to our communities is just something we do, like making pizza or providing great careers. The Papa Johns Foundation for Building Community helps us work together for equality, fairness, respect and opportunity for all. For example, in its 2022 Corporate Responsibilities Highlights report, Papa Johns pledged to donate 10 million meals for the next 5 years in its partnership with The Papa Johns Foundation for Building Community, and also partnered with franchisees to award $1.6 million to 180 community organizations through The Foundation's Building Community Fund Grant program. We're also committed to sustainability and reducing our environmental impact. Here are some examples of what we've done. We'd love to get you involved, too.
Serving Up More Than Pizza - This Year Our Foundation: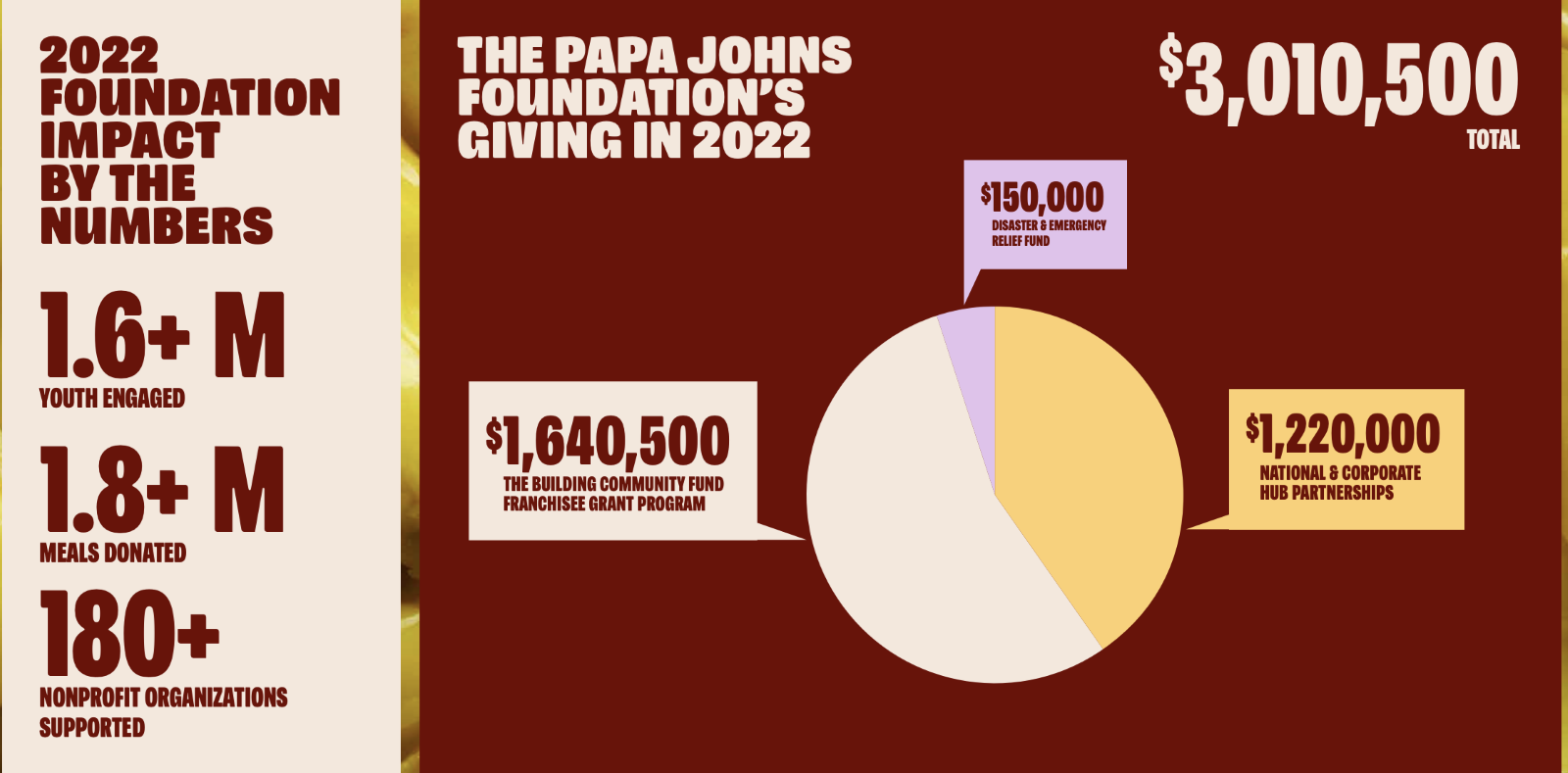 Continued to support Boys & Girls Clubs of America's (BGCA) leadership development programs, including the Keystone Conference and Youth of the Year, which focus on academic success, career preparation and community service.
Sustained support for UNCF. The Foundation invested $250,000 to fund college scholarships for students majoring in STEM or business courses ranging from Marketing to Supply Chain Management, as well as "just-in-time" emergency financial aid to students at risk of dropping out due to unexpected hardship.
Supported The Farmlink Project, which connects farms that have surplus produce to food banks, serving people in need while also diverting food from the waste stream.
For the third year, the Foundation supported the GLI (Greater Louisville Inc., The Metro Chamber of Commerce) Business Council to End Racism through funding for the Power to Prosper Minority Business Accelerator. The program was launched to support minority-owned businesses with at least $200,000 in annual revenues and looking to scale. In February, the accelerator received 100 applications and 20 companies were selected to take part in the eight-month program.
To kick off Hunger Action Month in 2022, Papa Johns announced a commitment to donate 10 million meals over the next five years. The Foundation has highlighted four strategic initiatives to achieve this: an expanded Papa Johns Harvest Program, grants to national and local non-profits, empowering franchise partners, and serving fresh meals through in-kind donations.
Papa Johns hosted the "Pizza with a Purpose" campaign for the third year to raise funds to support the Foundation's community partners and programs. Throughout the two-month campaign, one dollar from every Shaq-a-Roni pizza sold was donated to The Papa John's Foundation for Building Community, raising almost $2.8 million.
Additionally, our Papa Rewards® members were invited to convert their rewards into a contribution to the Foundation.
Join Our Talent Network
Stay connected with Papa Johns and receive alerts with new job opportunities and news relative to your interests.